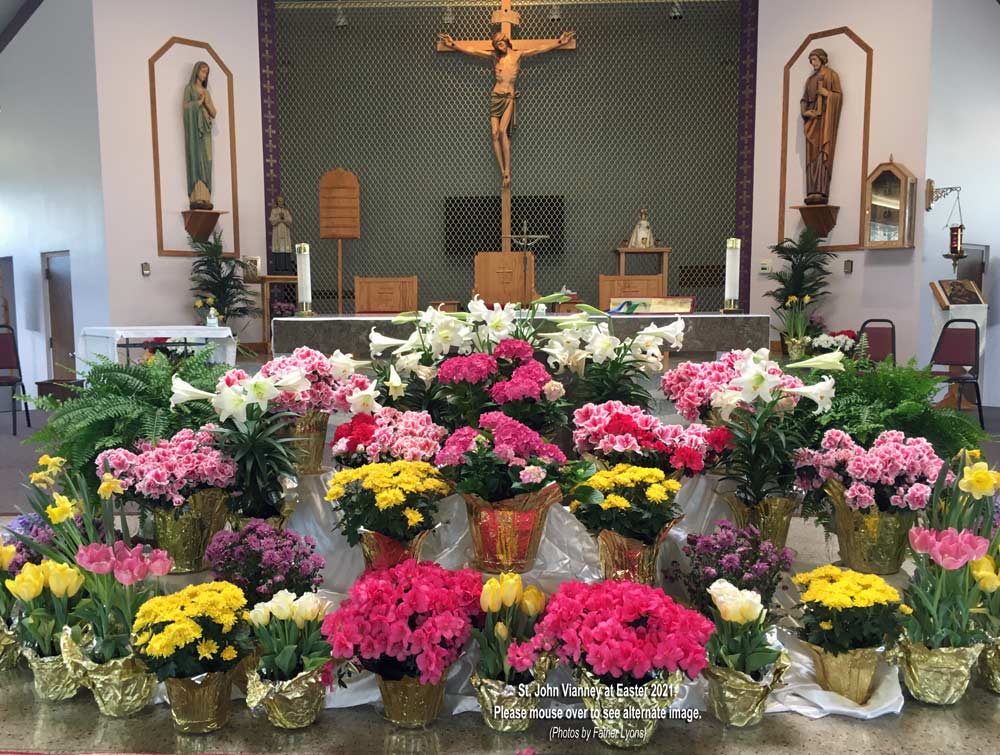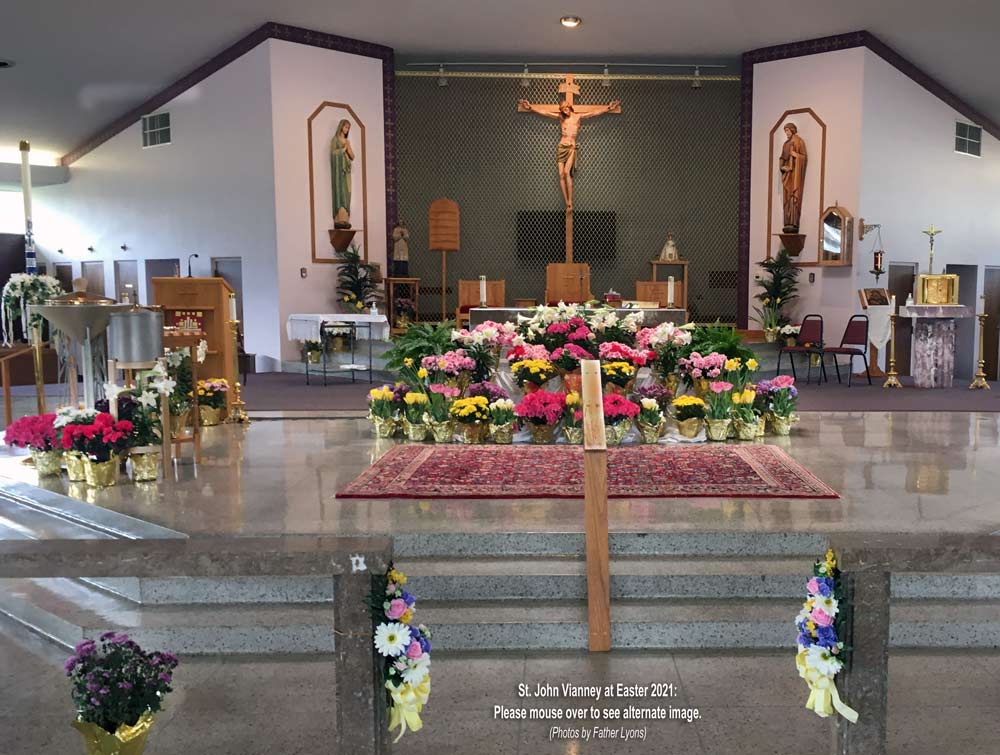 Saint John Vianney Roman Catholic Church is located just off Route 271, about a mile from Route 22 in Cambria County, PA.

Welcome to Saint John Vianney Catholic Parish. We are so happy that you have landed on our webpage. Christ established His Church on the Rock of our first Pope's bold proclamation. "Simon Peter said in reply, 'You are the Messiah, the Son of the living God.' Jesus said to him in reply, 'Blessed are you, Simon son of Jonah. For flesh and blood has not revealed this to you, but my heavenly Father. And so I say to you, you are Peter, and upon this rock I will build my church, and the gates of the netherworld shall not prevail against it.' " (Matt 16:16-18)
We welcome you to join us for daily Mass where we encounter our Savior, who gave His life so that we might have life everlasting. Our sacramental schedule is listed at the bottom of each page of our website. We encourage you to also check our most recent bulletin.

Our parish is staffed by Franciscan Friars of the Third Order Regular. Our pastor, Father Timothy Harris, T.O.R., and our permanent Deacon Tom Buige, look forward to greeting you in the Love of Christ as we seek to do His work of building God's Kingdom here in Mundy's Corner. Hope to see you soon!
It is important that we support our parish.
We urge you to mail contributions by check or money order directly to the parish. The mailing address appears at both the top and bottom of this website.
If it is more convenient, you may donate to the parish on-line at this secure link on the diocesan website: YourParishOffertory 
You may contribute any amount. Be careful to select St. John Vianney Parish in the dropdown box. The Diocese will then forward 100% of our collections directly to our parish.
We urge you to pray each day and strive to keep the Sabbath holy.
We are blessed to be living at a time when the internet provides many Catholic resources. We have helpful links for private prayer at:  https://www.sjvcc.com/prayer/  
In addition here are several websites that offer on-line video of daily and Sunday Masses:
The Proclaim! TV Ministry at St John Gualbert Cathedral in Johnstown broadcasts Mass each Sunday 11 AM on local TV on WATM ABC 23 and on Cornerstone TV Faith and Family Channel in Pittsburgh.
This Mass video is then re-broadcast at 9 PM Sunday on Atlantic Broadband's Public Access Channel in Johnstown, and repeated on the Faith and Family Channel in Pittsburgh. You may also view the most recent Sunday Mass on the St. John Gualbert web site at:  https://www.stjohngualbert.org/sunday-tv-mass/
Please pray for Religious Vocations!
The patron saint of our parish is Saint John Vianney. He was a parish priest in the small and very remote village of Ars, France during the early 1800's. St. John Vianney was a humble man with a deep devotion to our Blessed Lady. He was much beloved by his parishioners.
St. John Vianney became very famous as a confessor and spiritual director. He heard confessions of people from all over the world, often for 16 hours a day. His life was filled with works of charity and love, and today Saint John Vianney is known as the patron saint of all parish priests.
The stained glass windows in our church depict scenes from the life of Saint John Vianney. We have used details from our windows on this web site. Please join us and all in our diocese in praying for more vocations to the priesthood and religious life.