We welcome our parishioners and all visitors to our web site. We hope you find helpful information here, and that you will come to visit us in person.
We have a beautiful church with friendly parishioners and a welcoming spirit. If you have any questions, please call our parish office phone at (814) 322-4789. May God bless you in the name of the Father, the Son and the Holy Spirit. 
– Father Andrew Draper TOR, Pastor,
and Deacon Thomas Buige
Please Note:  During the dark of winter, our Saturday Mass will begin at 4 PM. Saturday confessions will be at noon and 3:15 PM.  This schedule change will be in effect beginning the first Sunday of Advent, December 1, 2019 through the beginning of the Easter Season 2020.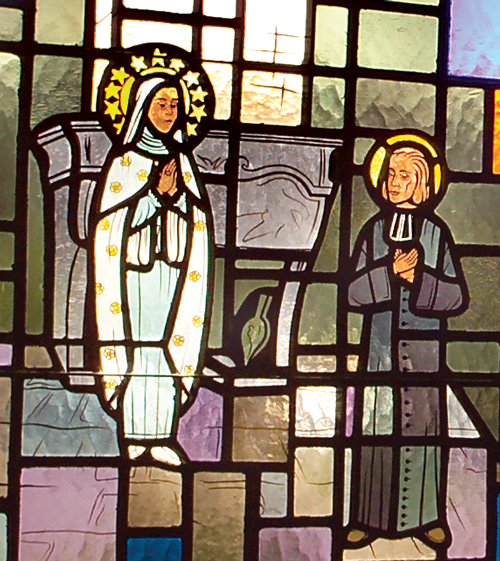 PLEASE PRAY FOR AND PROMOTE VOCATIONS!
The patron saint of our parish is Saint John Vianney. He was a parish priest in the small and very remote village of Ars, France during the early 1800's. St. John Vianney was a humble man with a deep devotion to our Blessed Lady. He was much beloved by his parishioners.
St. John Vianney became very famous as a confessor and spiritual director. He heard confessions of people from all over the world, often for 16 hours a day. His life was filled with works of charity and love, and today Saint John Vianney is known as the patron saint of all parish priests.
The stained glass windows in our church depict scenes from the life of Saint John Vianney. We have used details from our windows on this web site. Please join us and all in our diocese in praying for more vocations to the priesthood and religious life.