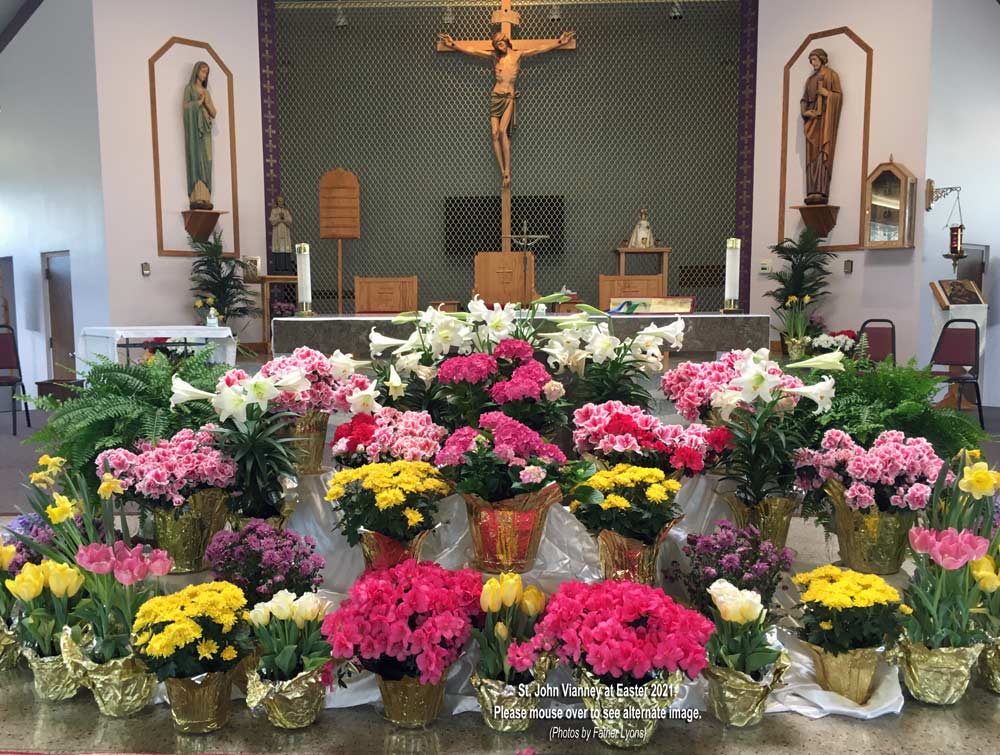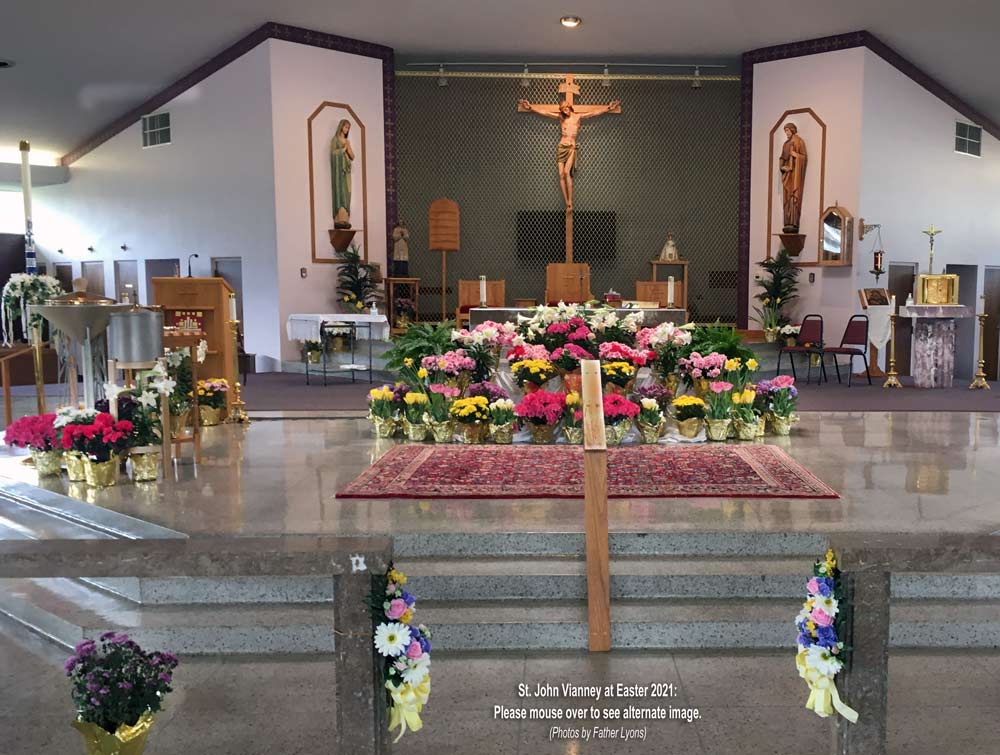 Saint John Vianney Roman Catholic Church is located just off Route 271, about a mile from Route 22 in Cambria County, PA.

Welcome to Saint John Vianney Catholic Parish. We are so happy that you have landed on our webpage. Christ established His Church on the Rock of our first Pope's bold proclamation. "Simon Peter said in reply, 'You are the Messiah, the Son of the living God.' Jesus said to him in reply, 'Blessed are you, Simon son of Jonah. For flesh and blood has not revealed this to you, but my heavenly Father. And so I say to you, you are Peter, and upon this rock I will build my church, and the gates of the netherworld shall not prevail against it.' " (Matt 16:16-18)
We welcome you to join us for daily Mass where we encounter our Savior, who gave His life so that we might have life everlasting. Our sacramental schedule is listed at the bottom of each page of our website. There could temporary or seasonal changes to our usual schedule, so we encourage to also check our most recent bulletin.

Our parish is staffed by Franciscan Friars of the Third Order Regular. Our pastor, Father Timothy Harris, T.O.R., and our permanent Deacon Tom Buige, look forward to greeting you in the Love of Christ as we seek to do His work of building God's Kingdom here in Mundy's Corner. Hope to see you soon!
We are grateful to Father Peter Lyons, T.O.R.,  who served our parish as Sacramental Minister, for just over a year. Father is a member of the Third Order Regular Franciscans, Province of the Most Sacred Heart of Jesus, and we are grateful to his Franciscan community for sharing him with us.
Our parish also owes a debt of gratitude to Deacon Tom Buige who has served our parish since 2010. He was our parish administrator during Father Lyons' tenure as sacramental minister, and over the years has accepted many and varied parish responsibilities. Deacon Tom currently works with the volunteers in our religious education program, meets with our Parish Councils, provides instruction to those studying to become Catholic, and helps with the smooth operation of our parish. 

---
Our parish's long serving and much appreciated Director of Religious Education, Margaret Zidak, has announced her retirement at the end of this school term. Her CCD Assistant, Karen Whited, is also planning to step down. Our families owe these two ladies a deep debt of gratitude for the countless kindnesses and many years of service they have so generously given to the young people of our parish. Their efforts will be missed. We thank you, Margaret and Karen! Be sure to say "Thank you" when you see these ladies at Mass.

St. John Vianney parish is now seeking a new Director of Religious Education. The job search is being handled by our diocese.
It is important that we support our parish.
We urge you to mail contributions by check or money order directly to the parish. The mailing address appears at both the top and bottom of this website.
If it is more convenient, you may donate to the parish on-line at this secure link on the diocesan website: YourParishOffertory 
You may contribute any amount. Be careful to select St. John Vianney Parish in the dropdown box. The Diocese will then forward 100% of our collections directly to our parish.
We urge you to pray each day and strive to keep the Sabbath holy.
We are blessed to be living at a time when the internet provides many Catholic resources. We have helpful links for private prayer at:  https://www.sjvcc.com/prayer/  
In addition here are several websites that offer on-line video of daily and Sunday Masses: