The Diocesan Church of Altoona-Johnstown is composed of many ethnic legacies, yet we are one assembly of believers in the Lord.
It is our hope that your visit to this parish web site will give you accurate information, and at the same time, serve as a source of encouragement on your journey into the Lord's Kingdom. May God bless you.
(Most Rev.) Mark L. Bartchak
Bishop of Altoona-Johnstown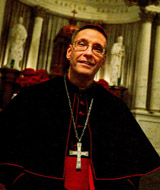 At Saint John Vianney, we have been abundantly blessed with many hard-working parishioners of faith, hope, and love.
It is our hope that this website will be a quick and easy way for our parishioners, as well as our neighbors and others, to find any parish information they may need.
We are happy to be a part of this effort and wish to thank all who serve our parish in so many different ways.
May we encourage and support one another.
Father Timothy Harris, T.O.R.
Pastor, St. John Vianney Parish